Okay Motherfuckers, We're All Doing Jello-shots
Strand Spring Break is here. Just because you work 40+ hours-a-week for no money and no good reason doesn't mean that you can't be in Cancun.....in spirit.
I, for one, defy
anyone
to work as little as I plan to in the coming week. Month. What have you.
The moratorium on Hawaiian shirt use has been lifted; heavy consumption of girl-drinks is recommended during any and all work hours; Caribbean music, however, is still off-limits, because I hate that crap.
If you would like to be part of the Organizing Committee, contact me with a letter of interest. Currently there are two (2) positions available for people to stand on either side of me and prop-up my dead fucking body "Weekend at Bernie's"-style.
[Schedule Update: The Wet T-shirt Contest will be combined with the Luau when I spray Nancy with kerosene and stick an apple in her mouth.]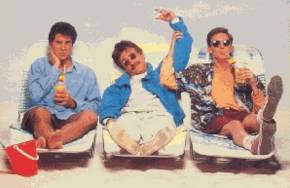 Woohoo!